Poultry feed pellet mill line/poultry feed pellet making line
Product description :
1. HKJ series pellet mills are the new-designed products of our company and the main parts of the fodder machinery system.
They are widely used in feed factories, breed aquatics factories, organic fertilizer factories, chemical factories, and China traditional medicine factories, etc.
It can be used together with powder material. Its capacity is superior in the same industry home and abroad.
2. The machine has such characters as compact structure, beautiful outline, high output, low energy loss, convenient operation, and reliable capacity etc.
3. Our company supply many different ring dies, such as φ1.5, φ2, φ2.5, φ3, φ3.5, φ4, φ5, φ6, φ8, φ10, φ12. It can be chosen according to different requirements.
4. The machine has adopted gradeless speed-adjusting motor to feed and installed ferromagnetic magnet system, overload protection device and a limit switch to make sure the security.
Besides, there are outer pellet-discharged structure and pressure or oil pump lubricant system.
2).Structure
1. Feeder
The feeder consists of speed-adjusting motor, reducer, screw hopper, and screw oar.
2. Conditioner
The conditioner is mainly made up of carbon steel or full stainless steel, mix oar, temperature display, motor and steam adding hole.
Its function is passing 0.1-0.4Mpa dry steam to make steam and feedstuff mix enough, to make material soft and pasted then goes into the pressing store.
The mixer hopper, mixer axis and oar are all made of carbon steel or stainless steel, so it is propitious to working in high-temperature and high-humidity environment.
(It's no need to use conditioner when pressing organic fertilizer)
3. The pressing store
The structure of pressing store and working principle see figure 2.
Through the cover of ring-die and feeder scraper, the powder material accumulate in the two pressing districts, belt wheel drives the ring-die rotate,
the material is rolled between the ring-die and the pressed roller,
two opposite rotating parts press the material gradually into the hole of ring-die, shaped in the hole and extrude out of the hole, knives by the column strip in the length you need,
finally the shaped pellets roll out of the machine.
The axis of pressed roller is eccentricity running it will change the gap between die and roller, the gap-adjusting completes through running the wheel.
4. The security system
The security system is made up of overload protection, the pressing store door and cover, anti-operation trip switch and outflow from the machine.
a. Overload protection
When hard impurity into pressing district or flow of material is too big, pressure between ring-die and pressed roller is over normal,
Spindle bear torque above normal and Shear stress which Pass safety pin is also above ultimate strength, then safety pin broken, making spindle spline block rotate and touch trip switch to stop.
b. Door and cover protection switch
During working, to avoid unnecessary casualties because of high-speed rotating when open the door and cover of the pressing store, then install a security trip switch on the left side of the door and cover.
When open the door and cover, the trip switch break control circuit of the pellet mill to make the pellet mill stop or can not start up to keep people safe.
3).Specification:
| | | | | |
| --- | --- | --- | --- | --- |
| MODEL | POWER(KW) | OUTPUT(T/H) | PELLET SPECIFICATION(mm) | EXTERNAL DIMENSION(mm) |
| HKJ250 | 22+2.2+1.5 | 0.6-1.5 | 1.5-12 | 1320×330×8501 |
| HKJ300 | 45+2.2+1.5+0.55 | 1.5-2.5 | 1.5-12 | 2100×1550×1060 |
| HKJ350 | 55+2.2×2+1.1 | 3-5 | 1.5-12 | 2220×1160×1450 |
| HKJ450A | 45×2+3×2+1.5 | 4-8 | 2-12 | 2400×1200×1600 |
| HKJ450B | 75×2+3×2+1.5 | 6-12 | 2-12 | 2300×1350×1800 |
Features:
1. SKJ series small animal feed pellet is flat die, which are consisted of two rollers. Animal feed
pellet machine is generally for home use. Animal feed pellet machine are widely used in pressing feed pellets.

2. The animal feed pellet machine can press 2-8mm diameter animal feed pellets. Animal feed materials such as grain, soybean, maize etc.

3. Animal feed pellet machine is handled by CNC machine, the die and rollers are handled by heat treatment, which increase the abrasive resistance, prolong the die and rollers lifespan.

4.Our company produce the SKJ series flat die pellet mill, which absorb elite of Germany KAHL pellet mill. The heart parts "die" and "rollers" are made by high alloy steel wear resistant material according to different materials, have the longer lifetime. The transmission parts adopt auto differential, drum junctor or universal joint drive. Little noise, low energ y consumption, high efficience and easy operation the series pellet mills were developed elaborately to be our patent products. The products are applied to large-sized, medium-sized and small bio-mass energy fuel plant, wood working factory, municipal refuse cleaning plant, organic fertilizer plant, chemical plant, animal feed plant and fishery etc. Low investment, quick efficience, no risk, are the idealest compact shaped equipments.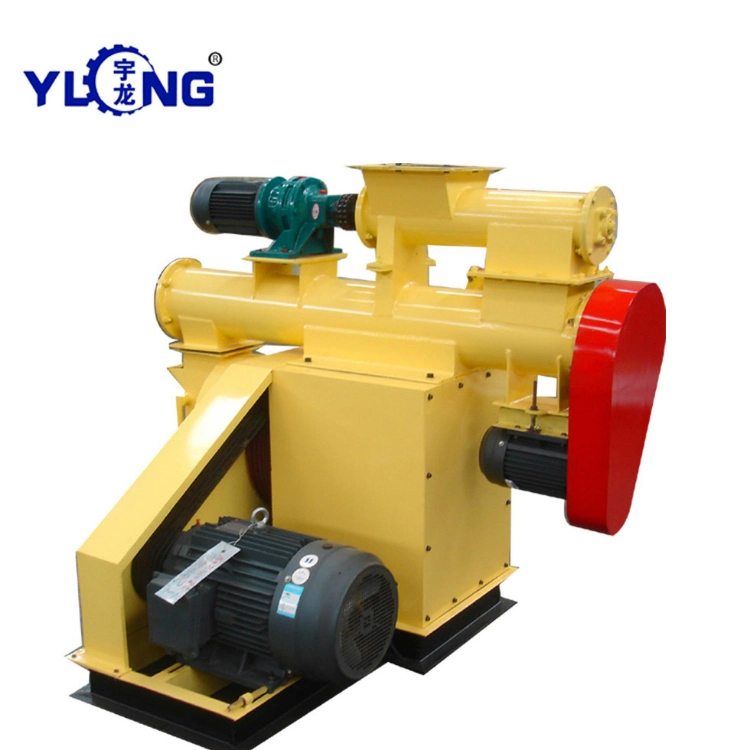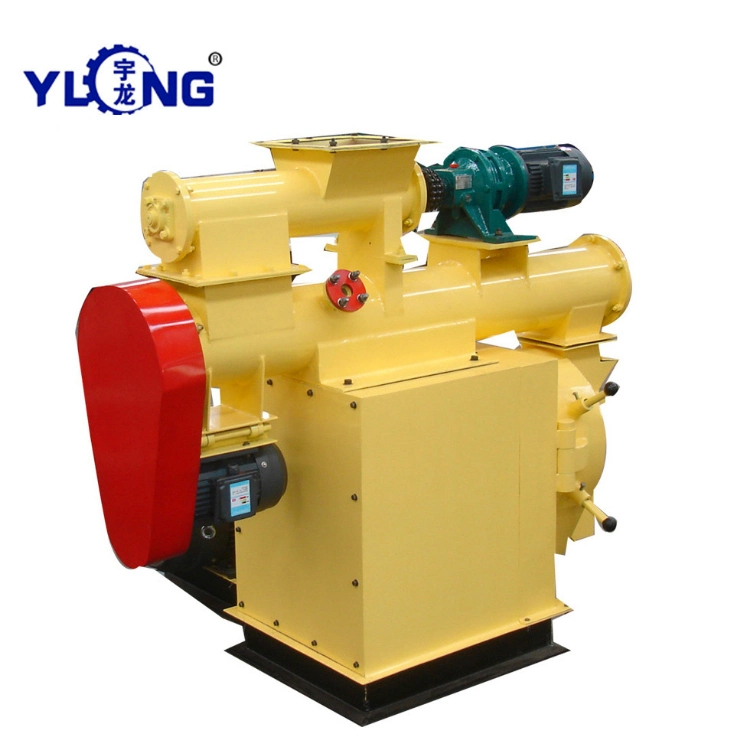 Company description :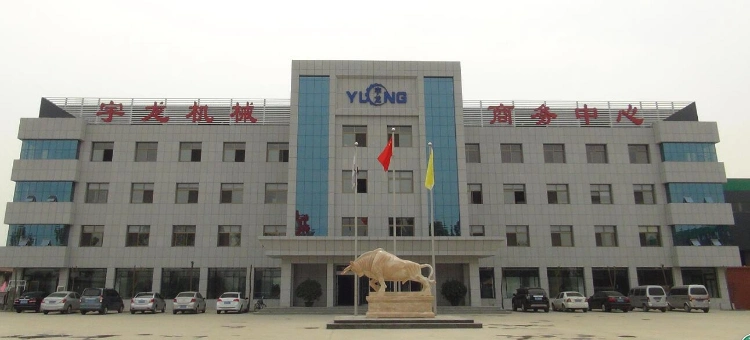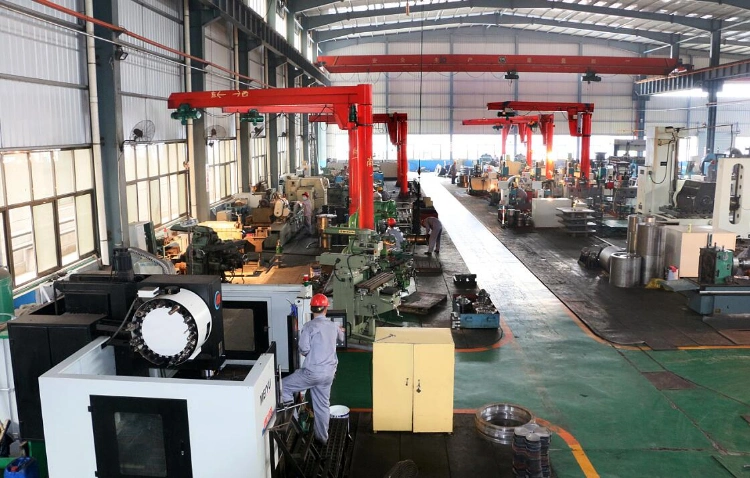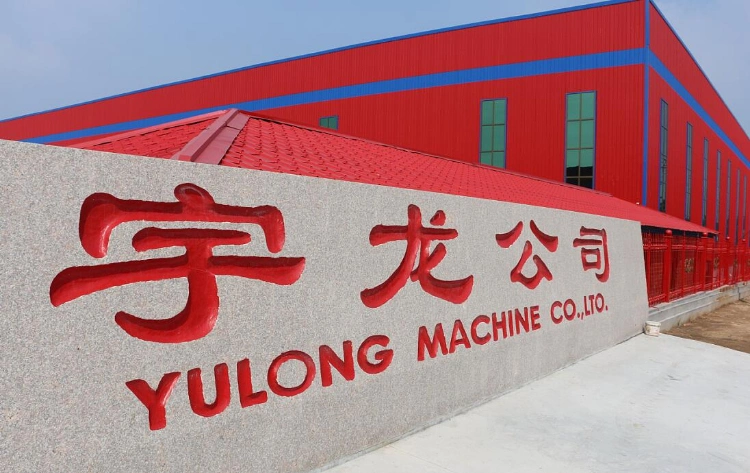 Shandong Yulong Machine Co.,ltd established in 1998 . it is a company integrated enterprise with product decelopment , design, manufacturing,training and trade . Yulong has 32 patents on its ownr&d products, has passed the ISO9001.EU CE, SGS certification and so on .
Yulong Main product : Crusher, Hammer mill . Dryer, Pellet Mill. Cooling , bagging. pelletilizer is patent product. Yulong company provide complete service from pre-sales to after-sales. Meanwhile we can provide Engineer overseas service. now Yulong company has branch in Indonesia, Thailand,Poland, Malaysia .Agent is spain

If you have any interest in
Flat Die Diesel Engine Pellet Machine
. pls contact me :+8617865159615.

Website :Biomass: zhongguoyulong.en.made-in-china.com
Fertilizer: zhongguoyulong.en.made-in-china.com
Animal Feed: zhongguoyulong.en.made-in-china.com
Certificate: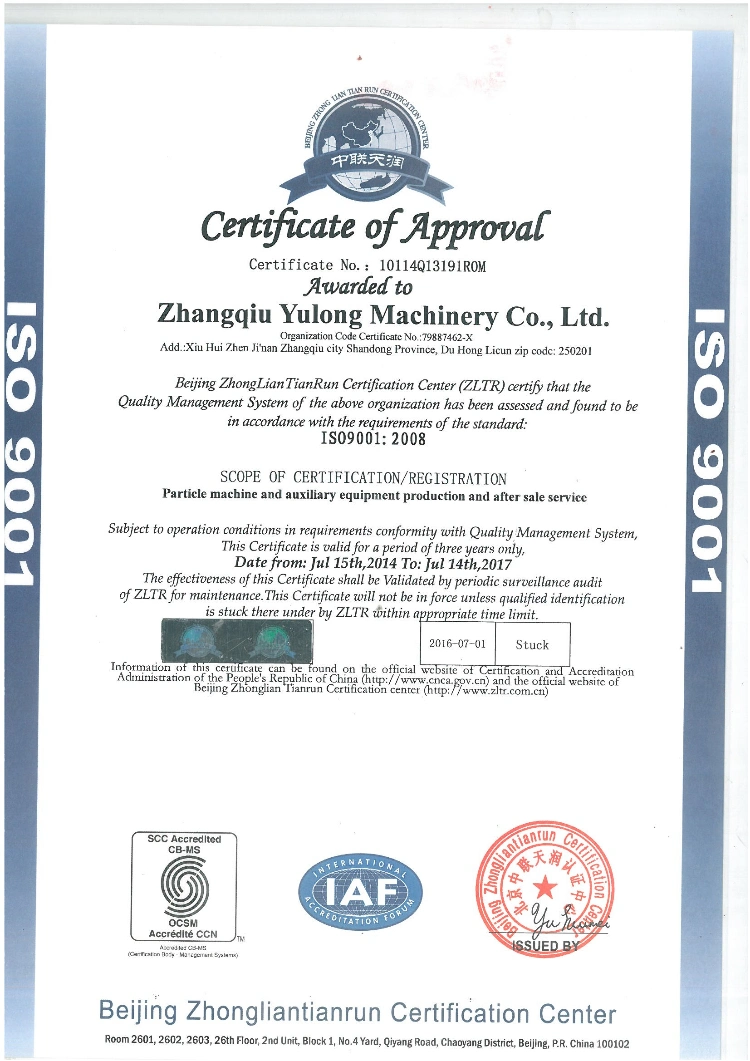 Yulong machine have passed CE , ISO , SGS certificate , wood biofuel pellet machine have passed testing .

After-sales service:

If required, Yulong will send the technician to guide yulong pellet machine installation. The buyer should pay the round trip air tickets of our technicians, lodging and food, medical treatment, insurance in customer's country. Necessary crane, hoists, tools, other materials, production raw materials and test facilities related with installation and debugging should be supplied by the Buyer. As regards the responsibilities of Seller and Buyer in installation, we will sign the contract.