Poultry Feed Complete Poultry Feed Production Line for Sale (SKJZ5800)

Unique Advantages of FDSP small feed mill plant
1. Advanced technology
With reasonable technology, high capacity and low energy consumption. It can produce 0.5t-8t mash and pellet feed per shift annually;
2. Modular Structure
The plant is compact, occupies less floor space and has low requirement on the mill tower, and needs low investment in civil works. The containerized modular structure is convenient for assembly and disassembly, facilitates the shipment and installation;
3. Automatic and Centralized control
The imitation screen control is adopted. All machines can be interlocked and safety, alarm device is available. The operation is simple and convenient;
4. Wide applicable scope
The plant can produce both poultry & livestock feed and fish feed and is applicable for medium and small sized feed mills and breeding farms.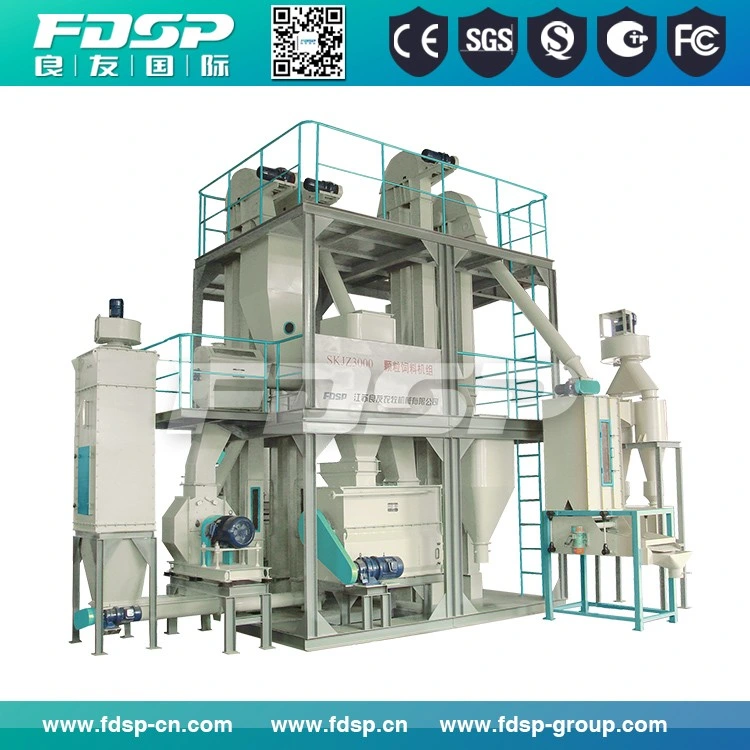 Model
Total Power
(kw)
Output
(t/h)
Floor Area(m)
(L*W*H)
Main Machines
model
SKJZ1800
55
0.5-2
6*4*8
SFSP50.SLHY0.4,SZLH25.SNSZ80
SKJZ3000
80
1-3
8*6*8
SFSP568 (22kw),
SLHY0.6,SZLH25,SNSZ80
SKJZ3800
136
2-4
8.5*7.5*11
SFSP568 (30kw),
SLHY1,SZLH32,SKLN2.5,
SSLG15*80,SFJH80*2C
SKJZ4800
145
3-5
9.5*8.5*12
SFSP568( 37kw), SHSJ1
SZLH320( 37kw), SKLN2.5
SSLG15*100, SFJH80*2C
SKJZ5800
191
4-5
10 × 9× 13
SFSP668( 55kw),SHSJ1,
SZLH350( 55kw),SKLN2.5,
SSLG15×100,SFJH100×2C
Note: The above types are just for reference, the detailed information will be according to customer's special requirements including size of factory, process technology etc.
Feed Pellets Processing Technology:
Raw Material →Grinding →Mixing →Pelletizing →Cooling →Crushing → Screening & Grading →Packing
Equipment Related to Complete Feed Pellet Production Line:
Hammer Mill →Mixer →Pellet Mill →Cooler →Crumbler →Rotary Screener →Bagging Scale →Control Center
Detailed processes
1. Raw Materials
Raw materials can be corn, brown rice, paddy, sorghum and soybean meal etc.
2. Grinding Process:
The feed grinder can grind the raw material ingredients to the required size. There are various hammer mills which can satisfy different requirements.
3. Mixing Process:
Mixing is considered to be one of the essential operations in feed pellet processing. Lack of proper mixing may lead to reduced diet uniformity, affecting the feed pellet quality.
4. Pelletizing Process:
Feed pellet mill is the core equipment of the whole production line. According to different raw material, material formula and working condition, we can offer you different pellet mills.
5. Cooling Process:
The feed pellets pressed out by the feed pellet mill are hot and moist. They can't be crushed, screened or packed immediately. Counter-flow feed pellet cooler is designed to cool or dry the feed pellets. It can decrease the temperature and moisture of the feed pellets, preparing for the following processes.
6. Crushing Process:
Different poultry, livestock or aquatic feed pellets are with different sizes. Some big ones should be crushed into small ones. Roll type feed pellet crumbler is just the equipment for feed pellet crushing. Double-roll feed pellet crumbler is suitable for crushing poultry feed, such as chicken feed, duck feed and goose feed etc. Three-roll feed pellet crumbler is suitable to crush aquatic feed including fish feed and shrimp feed etc.
7. Screening, Grading and Packing Process:
The rotary grading sieve can be used to screen and grade the feed pellets. After processing, you can get the qualified feed pellets without fine powder.
Packing Process
The feed pellets should be packed for transporting, storing or selling.
8. Automatic PLC Control System:
With the automatic PLC control system, the production line is with high efficiency and convenient operation.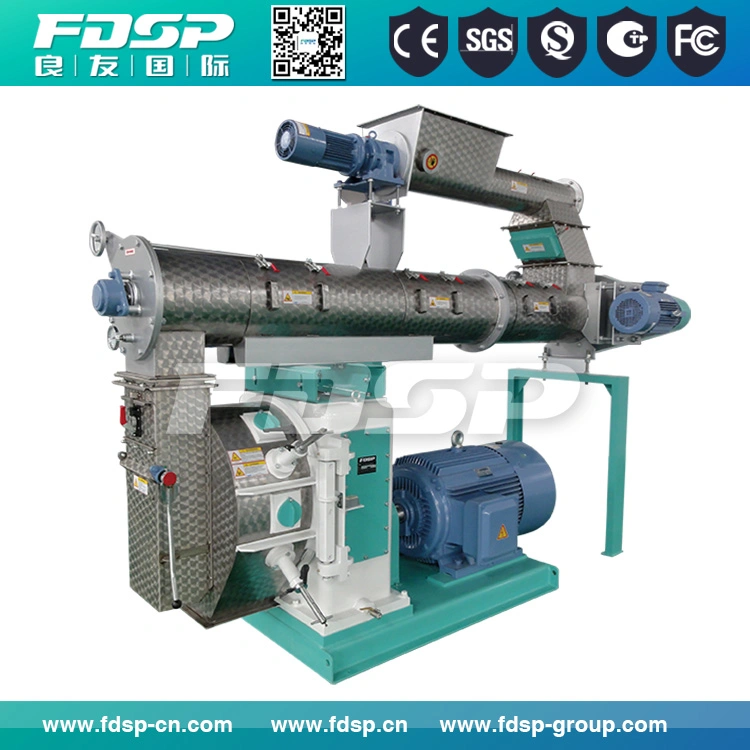 About Us
Jiangsu Liangyou International Mechanical Engineering Co., Ltd is affiliated to Jiangsu Liangyou Agro Machinery Co., Ltd which has about 20 years of experience in the comprehensive development and utilization in agriculture field. It covers an area of 15000 square meters, locating in the zhongguancun science &technology industrial park in Liyang City, JiangSu Province, PRC.
FDSP has sold Feed machinery and fertilizer machinery throughout China and exported to Korea, South Africa, Russia, Thailand, Taiwan, Philippines, Malaysia, Australia, Egypt, Syria, Nigeria, Ethiopia, India, Bangladesh, Pakistan, Iran etc.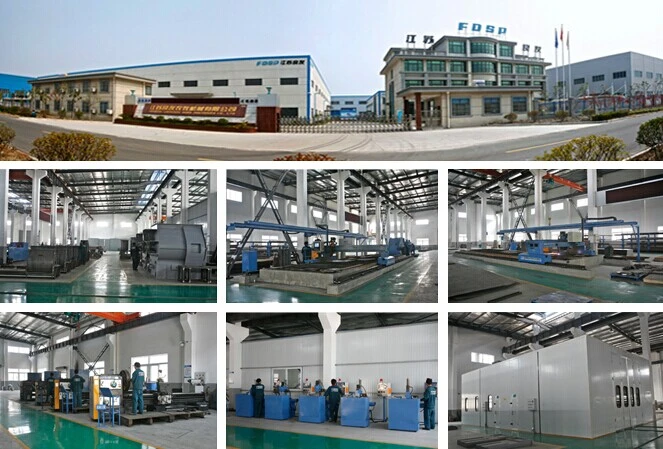 Customers From All Over The World
We insist on "Faith & Federation , Develop & Creativity, Service & sincerity , Pluck & Prestige " ,also we own outstanding R&D team with the sense of innovation and cooperation.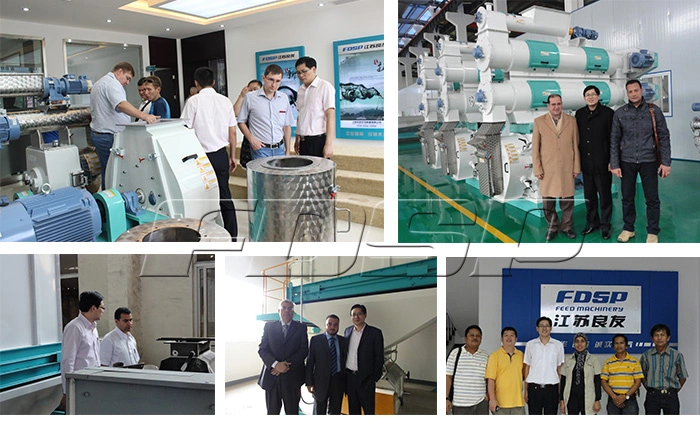 Our Service:
Warranty:1 year
Our professional service includes: Free training, Guidance Installation and Debugging.
If you have any question, please contact us freely. Our after-sales service team on-line will do the best to accomplish your sincere requirement on time.
Certifications:
FDSP has obtained ISO9001:2008 international quality system certification, CE certification for feed machinery, fertilizer machinery, biomass equipment and complete sets of production line.