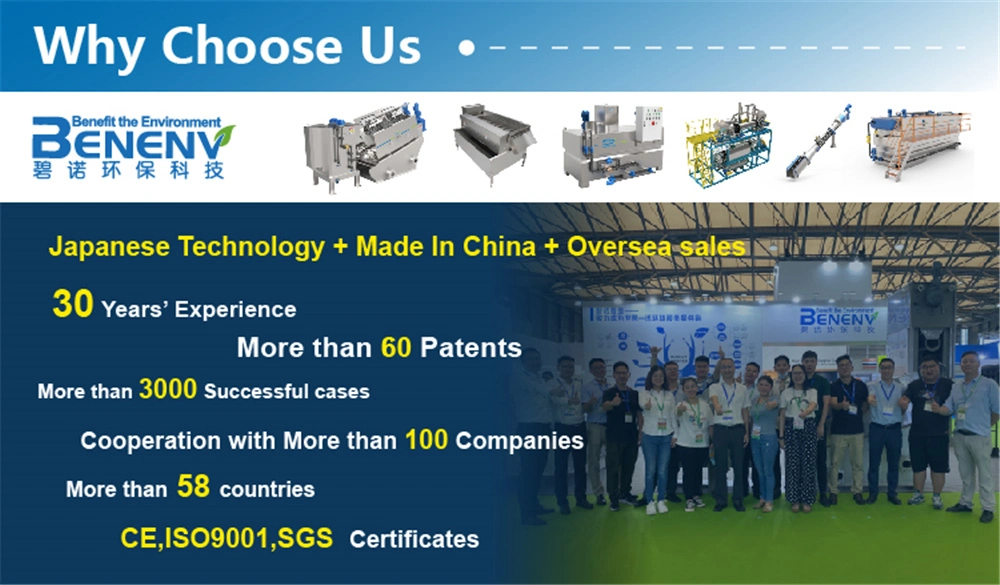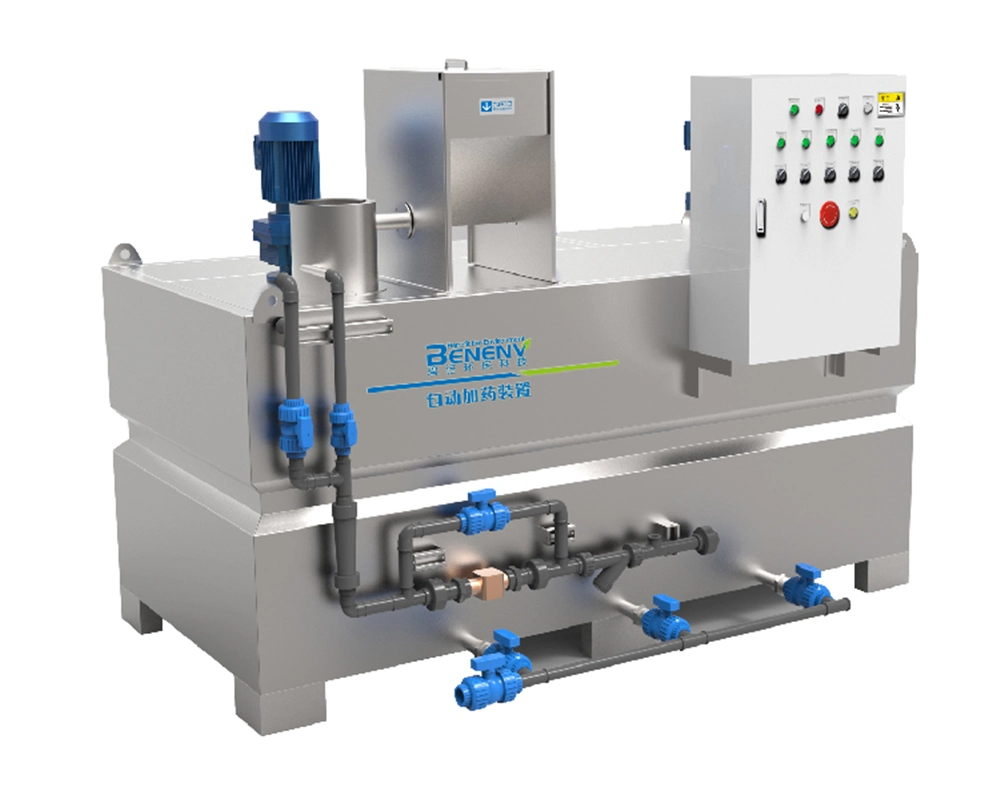 The automatic dosing machine is widely used in the waste water treatment, it can mix the compounds continuously and effectively, so the reactive polymer solution appears.
These main components of the machine: Polymer feed machine (including material hopper), Dry powder infiltration device, Tank, Level controller, Mixer, Dosage water inlet pipe, Electric control panel.
Polymer dosing device is composed of hopper, push screw, electric heater and etc.
The effective volume of the hopper can meet the dosage for a long time which is equipped with sight glasses for observing material level monitored by the dry powder level meter. The push screw driven by the high-precision reducer can satisfy the dosage. The electric heater can be installed in the discharge pipe of push screw, and it can prevent the powder from caking.
Polymer dissolving device is composed of pre-soaking device, tank, and 3 sets of mixers. The pre-soaking device is to infiltrate and mix the polymer powder in advance.
The 3 tanks are precast mixing tank, homogeneous slaking tank and solution storage tank, in which there is a mixer correspond to guarantee the homogeneity.
Water supply device is composed of pipeline, manual ball valve, filter, pressure gauge, solenoid valve, stop valve, and the rotor flow meter, etc.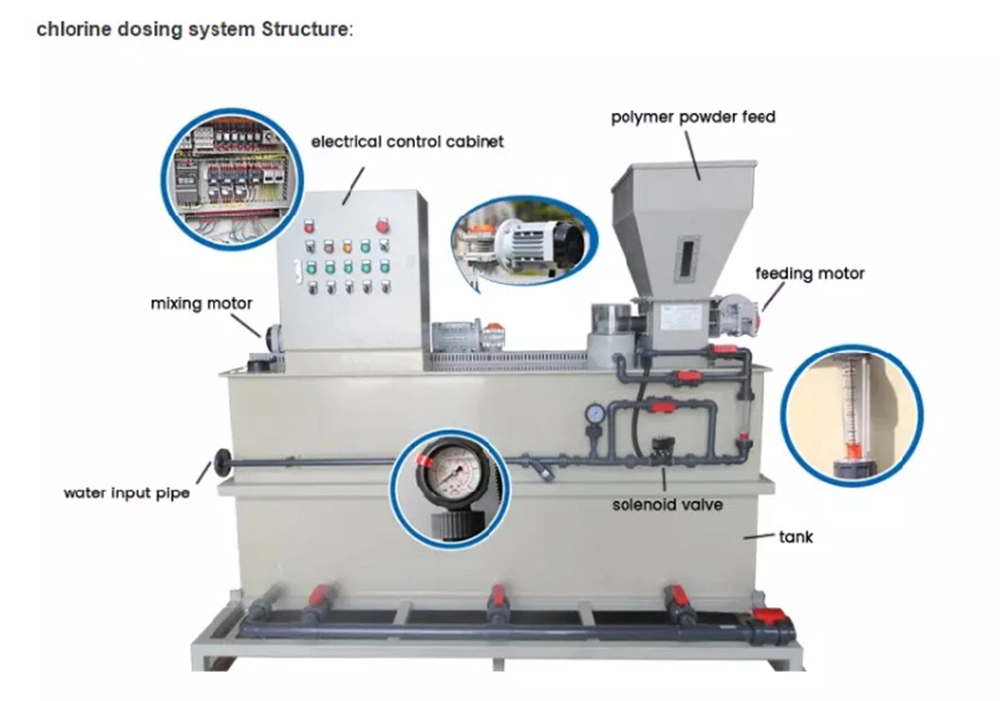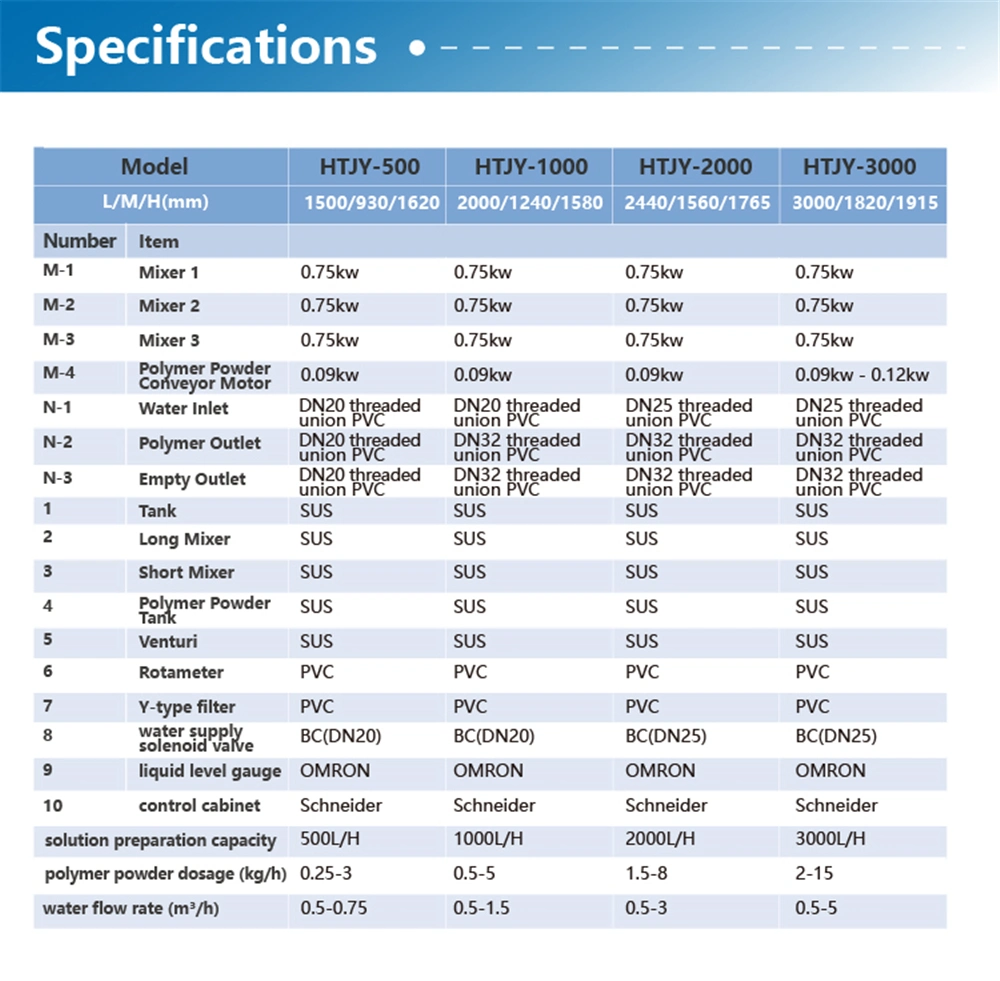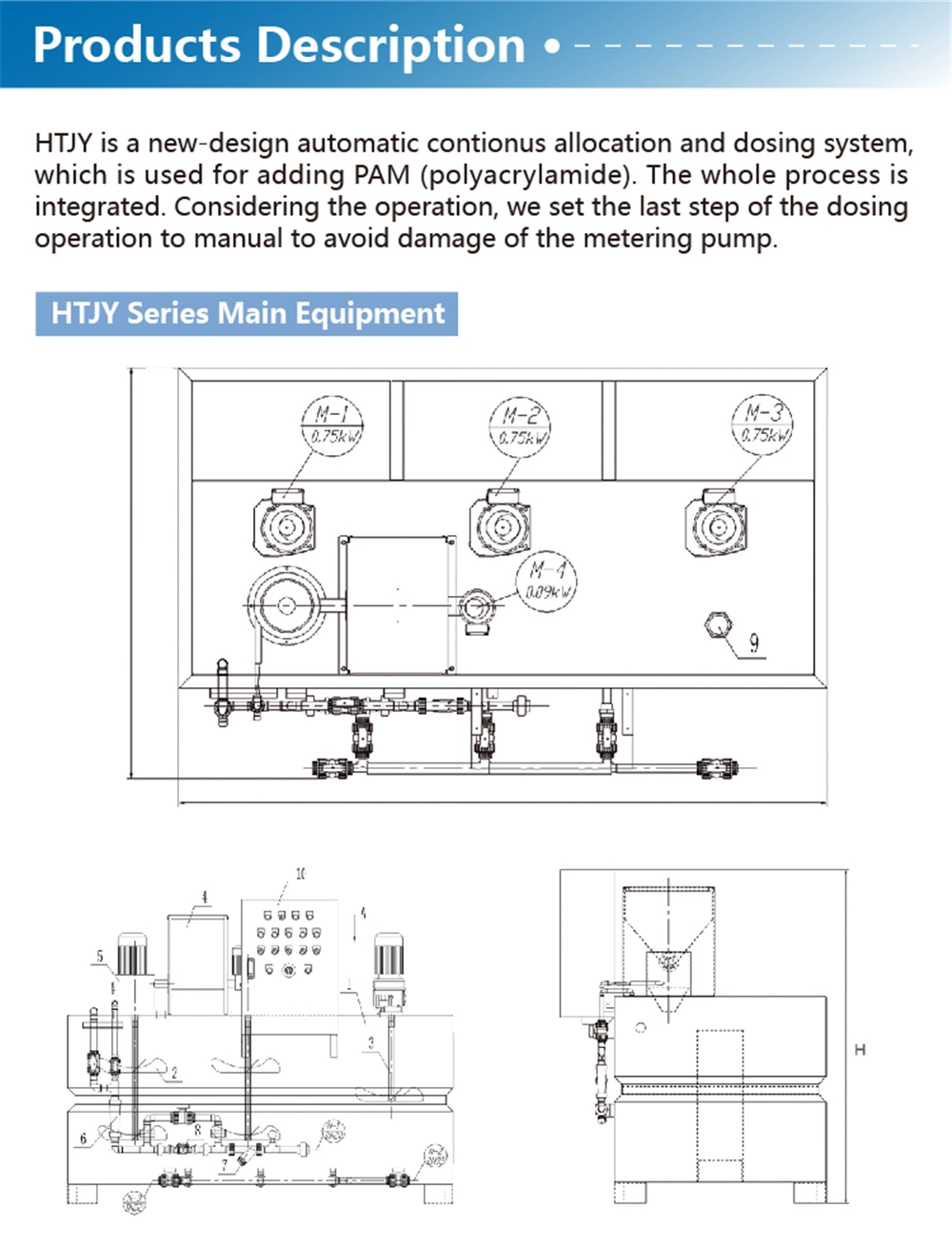 FAQ
Q: Are You Trading Company Or Manufacture?
A: We Are Both Manufacture And Trading Company. We Have Over 30 Years' Professional Experience As a Waste Water Treatment Equipment Manufacturer And Engineering Service Enterprise.
Q : What Are Your Main Products?
A:Keywords :Sludge Dewatering Machine Equipment, Screw Type Sludge Dewatering Press Sludge Screw Press, Dewatering Sludge Machine Screw Press ,Sewage Treatment Equipment ,Sludge
Treatment Plant,Screw Press Sludge Dewatering ,Dewatering Sludge,Dewatering Machine For Sludge, Dewatering Sludge Machine Screw Press, Rotary Drum Bar Screens, Equipment DAF, DAF Price ,Dissolved Air Flotation System Price, Sludge Shaftless Screw Conveyor,Chemical Dosing Device ,MBBR Price,MBBR Media,Disc Diffuser, Polymer Preparation Chemical Dosing System,
Q
:
How Can I Find The Suitable Model?
A: Please Provide Flow Rate, Solids Content And Sludge Type, We Can Assist You In Model Selection.
Q: Where Is Your Factory Located?
A: Yixing City, We are in the famous city of environmental protection equipment ,professional for Sludge screw press dewatering Machine ,Which Is Very Close To Shanghai With Only Less Than 3 Hours' Driving. Welcome for your visiting.
Q: Do You Provide O
EM
Service?
A: Yes. We Can Do The Customized Design According To Your Different Request for sludge Dewatering.
Q: How About The Production Capacity Of Your Company?
A: Our Factory Covers Area Over 22,000M2 And Produces Machines 2000 Sets Per Year.
Q: How Could We Trust You And Your Company? This
i
s First Time Transaction?
A: A: Our Company Has More Than 30 Years Professional Experience. We Cooperate Over 1000 Customers.In China And Overseas. We Export Nearly 60 Countries All Over The World.And We Have More Than 60+Patents, CE,ISO 9001,SGS Certificates. And We Have Company In Japan , Great Technology And Great Quality.
Q: Do You Offer After-Sales Service?
A: Video Technical Support, Online Support,Spare Parts,Field Maintenance Repair Service
Q: How Long
i
s Your Warranty?
A: 2 Years After The Arrival Of The Goods. During This Period, As Long As It Is Not a Man-Made Damage, We Send The Damaged Parts Free Of Charge.
Q: What About Your Produce Time?What Kind Of Transportation Do You Offer?
A:Within 30 Days Against Down Payment. Air, Land & Sea .
Q: What Kind Of Payment Do You Accept?
A: T/T, L/C, Paypal, Cash, D/P, D/A, Western Union, Money Gram